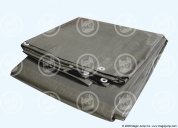 Size
Select a Size (L x W x H)
?
Other sizes of this product are available. Select desired size from the drop down menu. When selected, the product information below will change.
Availability
Ready to be shipped
Description
The heavy duty Tarp protects your investment from wear that occurs from rubbing on the cement or asphalt and other hard surfaces. These are heavy duty commercial grade silver/black tarps. Comes in package of 3 pieces.
Cut size is 18' x 24' (finished size is a few inches smaller)
Comes in package of 3.

Features:
- 14 X 14 weave HDPE woven center layer.
- 50 micron UV resistant LDPE outer lamination on both sides.
- PE twine reinforced hems.
- Polycarbonate grommets every 18".
- Special molded plastic reinforced corner pieces.
- black underside / great for canopy applications.
Price is for 3 tarps
Report

Licensed Knock-Offs

Have you come across counterfeit licensed inflatable knock-offs? Knock-offs are bad for your business and the entire amusement industry. Learn why and how you can report them.
Your

Resourses

Take advantage of Magic Jump's wealth of resources and information to keep ahead of the curve in the inflatable industry. Below you'll find several invaluable links to keep your business running smoothly.