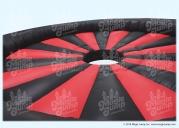 Custom Bull Ride Mattress
Size
Length x Width x Height
17' x 17'
Availability
Ready in 60-75 Days
Description
This Custom Bull Ride Mattress was made specific to a customer's request. Its center opening dimensions are 53"x34" with a 24" base for the mechanical bull ride. This Custom Bull Ride Mattress also has the customer's desired name printed on the side in his desired color scheme and font. The inflatable mattress is made with premium material and assembly to ensure durability.

Magic Jump is ready to design your very own Custom Bull Ride Mattress. Visit Magic Jump to discuss your specifications, you will surely be satisfied with the quality and presentation of your product.
Product Information
Quantity Per Unit
1 Piece
What's Included






Report

Licensed Knock-Offs

Have you come across counterfeit licensed inflatable knock-offs? Knock-offs are bad for your business and the entire amusement industry. Learn why and how you can report them.
Your

Resources

Take advantage of Magic Jump's wealth of resources and information to keep ahead of the curve in the inflatable industry. Below you'll find several invaluable links to keep your business running smoothly.