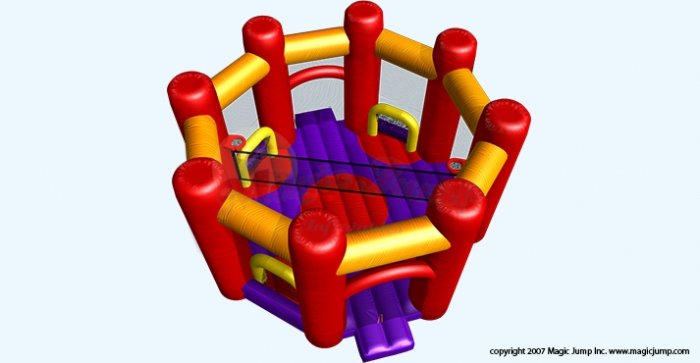 Size
Length x Width x Height
33' x 30' x 16'
Availability
Ready in 55-70 Days
Description
Magic Jump has modified its Coliseum with even more material and workmanship for years of use at Indoor Play Centers. The IPC Coliseum is made with double-layered vinyl at high-stress points and is designed for durability to withstand the busiest play centers. Its colors can be customized to fit your indoor theme at no extra cost.

Magic Jump has created a truly unique, all-inclusive amusement attraction with its custom made IPC Coliseum. This product offers many amusements for participants to challenge each other with. It is a colossal structure measuring 33 feet long, 30 feet wide and 16 feet high. Its octagonal shape and columns authenticate the IPC Coliseum as a truly standout product, making it perfect for indoor play centers. The detailed workmanship of the IPC Coliseum is definitely a sight to behold.

The IPC Coliseum is made to satisfy almost any sporting desire with a variety of activities and games for gladiators big and small. The arena itself serves as a great sumo suit battleground and dodge ball arena. Surrounding the arena are four soccer nets, two basketball hoops and a volleyball net that is adjustable to multiple height settings. The Coliseum offers fun activities all around.

The IPC Coliseum is one of Magic Jump's feature products for indoor centers. It has grown in popularity over the years and always satisfied owners. It is a great centerpiece to build a successful, fun-filled play center around. The octagonal design allows spectators to enjoy the events of the IPC Coliseum from all around. It also has two entry and exit points at opposite ends of the structure. It provides for a great source of entertainment and hours of fun, physical activity. Customers will be looking forward to enjoying the IPC Coliseum over and over again.
Product Information
Blowers Required
2 (1 hp. ea.)
Patron Height (min/max)
36" / 72"
Weight per Patron
200 lbs. ea.
Quantity Per Unit
1 Piece
What's Included




Report

Licensed Knock-Offs

Have you come across counterfeit licensed inflatable knock-offs? Knock-offs are bad for your business and the entire amusement industry. Learn why and how you can report them.
Your

Resources

Take advantage of Magic Jump's wealth of resources and information to keep ahead of the curve in the inflatable industry. Below you'll find several invaluable links to keep your business running smoothly.