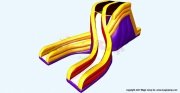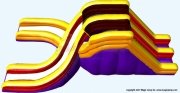 Size
Length x Width x Height
30' x 56' x 23'
Availability
Ready in 55-70 Days
Description
Magic Jump's famous X-Slide has been modified for use at Indoor Play Centers. It has been designed with cover linings to protect high-traffic and high-stress areas of the ride from increased abrasion. This also makes it easier to repair any damage with a new lining attachment rather than more-expensive repair for the ride, itself. Double-layered vinyl in some areas also maximizes the strength of the ride and extends its lifespan. All this workmanship and material is applied to make this the best quality ride you can find. Colors can be customized to fit your indoor theme at no extra cost.

The IPC X-Slide is for those wanting to cross over to a one of a kind extreme inflatable slide. The name of the slide speaks for itself, as it reflects the design of the slide. As the only inflatable slide in the world to feature criss-crossing lanes, the IPC X-Slide provides for a uniquely fun experience for all. As participants pass over and under each other through this towering slide, they each experience a unique twist on sliding down inflatable slides. With over 40 feet of twisting slides, the IPC X-Slide will be a standout ride at any event or play center.

The IPC X-Slide is the perfect product for play centers looking to amaze patrons. Mouths will drop and eyes will pop on children and adults alike at the sight of an IPC X-Slide. It has a massive presence and is very attractive for display as a centerpiece anywhere. Its design is engineered to thrill with every detail. The IPC X-Slide is truly a one of a kind and experiencing and it is sure to satisfy any rider.
Product Information
Blowers Required
3 (1.5 hp. ea.)
Quantity Per Unit
2 Pieces
What's Included




Report

Licensed Knock-Offs

Have you come across counterfeit licensed inflatable knock-offs? Knock-offs are bad for your business and the entire amusement industry. Learn why and how you can report them.
Your

Resources

Take advantage of Magic Jump's wealth of resources and information to keep ahead of the curve in the inflatable industry. Below you'll find several invaluable links to keep your business running smoothly.