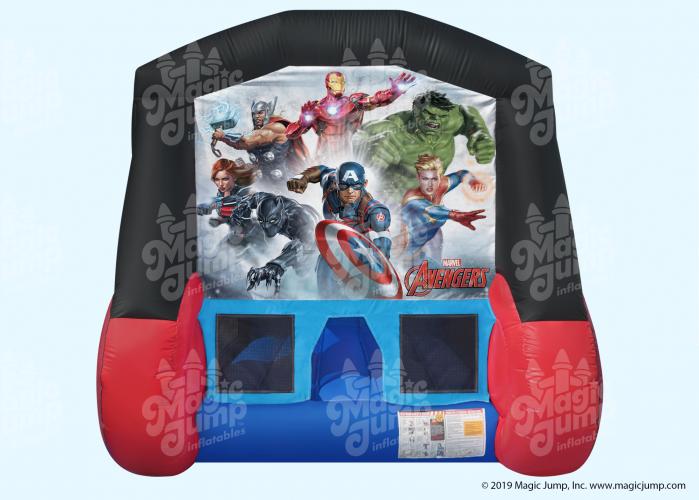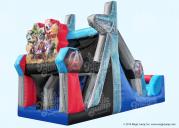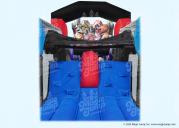 Marvel Avengers 50 Obstacle Course Wet or Dry
Size
Length x Width x Height
50' x 11' x 16'
Availability
Ready to be shipped
Description
Inspired loosely by the iconic Battle of New York where Earth's Mightiest Heroes assemble together against the Chitauri alien invaders is Magic Jump's official MARVEL AVENGERS 50' Obstacle Course Wet or Dry with Avengers Tower (formerly Stark Tower), their headquarters and main base of operations.
This 50-foot long Avengers-themed Obstacle Course is two (2) pieces to make delivery and setup easier for our customers -- and it features a special non-slip material that Magic Jump uses for safe use with water. Piece #1 with entrance features a bounce & obstacle area, with small climber/slide and character obstacle pop-ups of various Marvel Avengers. Piece #2 features tall climber/slide unit with a water misting system that sprays patrons as they slide down into the fun U- shaped splash zone. Exterior includes printable areas with character graphics.
As new S.H.I.E.L.D.-sponsored superhero recruits under the Avengers Training Initiative, participants will enter the obstacle course challenge and race through inflatable obstacle pop-ups of their favorite Marvel superheroes: Iron Man, Captain America, Thor, and Captain Marvel. Then, participants join the super squad by powering through the tall climb and escaping down the slide. Only after completing this obstacle course in record time will you know if you have what it takes to protect the world from superhuman threats.
Armor up -- and bring the thunder to -- your customers by featuring this officially licensed obstacle course in your rental inventory. It can be rented out in 6 ways: (1) 50' obstacle course; (2) 50' water obstacle course; (3) 25' combo unit; (4) 25' obstacle course; (5) 25' dual lane dry slide; (6) 25' dual lane water slide. This is hero boot camp at its finest!
Made with premium materials by master craftsman, the MARVEL AVENGERS 50' Obstacle Course Wet or Dry is designed with fully licensed digital artwork. It is a marvel-ous attraction that is suitable for all occasions.
Slide platform height: 8.5 feet
Obstacle weight: 276 lbs.
Slide weight: 369 lbs.
Product Information
Blowers Required
2 (1.5 hp. ea.)
Patron Height (min/max)
36" / 65"
Weight per Patron
175 lbs. ea.
Quantity Per Unit
2 Pieces
What's Included





Report

Licensed Knock-Offs

Have you come across counterfeit licensed inflatable knock-offs? Knock-offs are bad for your business and the entire amusement industry. Learn why and how you can report them.
Your

Resources

Take advantage of Magic Jump's wealth of resources and information to keep ahead of the curve in the inflatable industry. Below you'll find several invaluable links to keep your business running smoothly.