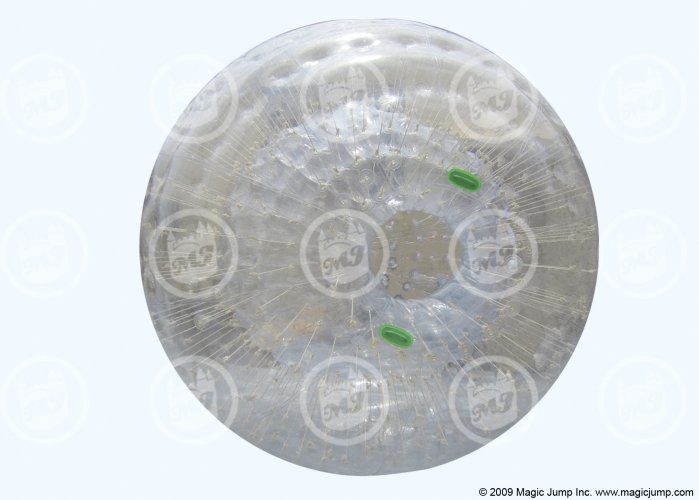 Size
Length x Width x Height
9' x 9' x 9'
Availability
Ready in 5-15 Days
Description
Magic Jump has raised the level of fun with its Bubble Ball. It is almost inconceivable how much fun this product is. The Bubble Ball is truly something that must be experienced to understand its amusement value. Ever wondered what it is like to be a hamster in a ball? Well the Bubble Ball gives you the opportunity to find out. Its nine foot diameter allows just about anyone to jump in and have fun. It weighs only 116 pounds and inflates in no time. It is constructed from heavy duty 1mil PVC material.

The Bubble Ball is a very popular product that customers love to rent for a day of rolling around fun. It is a great product to enjoy on its own or combined with other Magic Jump products made especially for use with a Bubble Ball. The Rat Race is a track to race on while inside a Bubble Ball; the Roller Raceway is a two person fun inflatable race. It is not possible to have this much fun with any other amusement. The Bubble Ball is guaranteed to excite everyone and provide hours of entertainment.
Product Information
Blowers Required
1 (1 hp. ea.)
Patron Height (min/max)
36" / 72"
Weight per Patron
180 lbs. ea.
Quantity Per Unit
1 Piece
What's Included


Report

Licensed Knock-Offs

Have you come across counterfeit licensed inflatable knock-offs? Knock-offs are bad for your business and the entire amusement industry. Learn why and how you can report them.
Your

Resourses

Take advantage of Magic Jump's wealth of resources and information to keep ahead of the curve in the inflatable industry. Below you'll find several invaluable links to keep your business running smoothly.