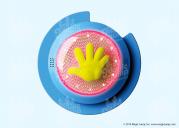 Size
Length x Width x Height
15" x 20" x 9"
Availability
Ready to be shipped
Description
The HitLit IGS (generation 1) is an innovative gaming solution that transforms commercial inflatables into real interactive arenas. Simply apply hand pads and installing patches directly to the surface and they'll add even more interactive fun and play value to any commercial inflatable attraction. Also works on other surfaces such as metal, fabric, rubber, wood, PVC, leather, nylon, paint, mesh, and brick.
Special designed hand pads are integrated with wireless technology for fast interaction between players and games. HITLIT hand pads come with sound and light effects to enhance the player experience. The functions can be upgraded via USB. The operator can select game mode and review player scores through HITLIT mobile app.
Contents:
One HitLit Light Console includes 10 hand pads, 10 installing patches (mounting holders), 1 scoreboard, 1 speaker, 1 charger, and 1 travel suitcase. A 6-hour charge lasts for 12-hour playtime!
Pre-Set Game Modes:
1. PICK UR LIGHT is a fun challenge game. Players assigned to red or blue team. 2 teams need to hit as many lights as possible within allotted time. Player or team who hots and scores the most wins the game.
2. ASTRO RUNWAY 2 rows of red and blue lights are setup. Players or teams race to hit the lights as soon as possible to be the winner.
3. TREASURE PUNCH Hand pads are the treasures that players or teams must find and hit. They light up and flash randomly, once hit, the hand pad will stay on and cannot be hit again. The winner is the player or team that hits all the lights in their color in the shortest amount of time.
Product Information
Quantity Per Unit
1 Piece
What's Included


Report

Licensed Knock-Offs

Have you come across counterfeit licensed inflatable knock-offs? Knock-offs are bad for your business and the entire amusement industry. Learn why and how you can report them.
Your

Resources

Take advantage of Magic Jump's wealth of resources and information to keep ahead of the curve in the inflatable industry. Below you'll find several invaluable links to keep your business running smoothly.