Report Counterfeit Licensed Knock-Offs
Magic Jump is the only manufacturer of commercial inflatable attractions authorized to sell official licensed inflatables in the U.S. with fully licensed artwork based on top entertainment properties from Disney, Lucasfilm, Marvel, Warner Bros., and Universal Studios. If any other manufacturers or distributors are selling inflatable product in the U.S. with artwork of intellectual properties from these entertainment studios, it is not official licensed product and should be reported promptly. If you become aware that other party rental companies in your area are in possession of counterfeit license inflatables, then you should report them below.
Why Report Licensed Knock-Offs?
Unsafe
Knock-off copies are generally inferior products of low quality and low safety standards. Many safety features are missing and these products are not in compliance with ASTM F-24 standards. These copied products ultimately result in injuries and lawsuits. Lawsuits in turn hurt the entire inflatable industry by increased insurance costs and cast a negative light on inflatable attractions.
Unfair
Business owners pay a small premium to own inflatables from top entertainment properties with the official licensed characters. Companies that purchase counterfeit licensed inflatables do so to cut out the intellectual property owner and the manufacturer. This is not fair to the intellectual property owner, the manufacturer, and ultimately you since they are competing in the same market but not paying the market value to own the inflatables.
Unethical
Let's face it, counterfeit licensed inflatables are unethical and dishonest. It creates a unfair market and in the end hurts your pocket. Why should these businesses benefit from the hard work of others.
Knock-offs are bad for your business, our business, and the entire industry. Help us to put an end to counterfeit licensed inflatables and protect the inflatable industry. Simply fill out the online form below. If you would like to be anonymous, you can choose so in the form below.
Counterfeit Licensed Knock-off Report Form
FAQ regarding licensed knock-offs
What will happen?
Magic Jump will collaborate with our licensing attorney and our licensors who will engage their Legal Departments to take action. Owners of licensed knock-offs could end up spending thousand in legal fees and paying thousands of dollars in injuries, penalties, and settlements.
What about removable banners?
Removable banners were at one time available of licensed characters from a previous manufacturer. However, these removable banners were discontinued many years ago. Most of these banners should be at the end of their life cycle. Any new removable banners of intellectual property is not a official item and a counterfeit.
What if I am unsure if I own a licensed knock-off?
You can contact the company you purchased your inflatable from to verify. Only Magic Jump, Inc. is authorized to sell official licensed inflatables and a previous manufacturer, who is no longer selling licensed inflatables. Alternatively, you can contact us via email or phone to verify if your product is an official licensed inflatable. If not then you should take immediate steps to stop usage and destroy. You should keep confirmation of destruction of property for your records in case legal action is brought against you.
Can you share some images of counterfeit licensed knock-offs?
Below are a few images of counterfeit inflatables.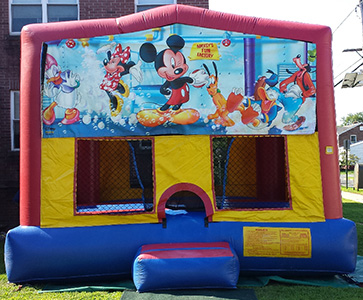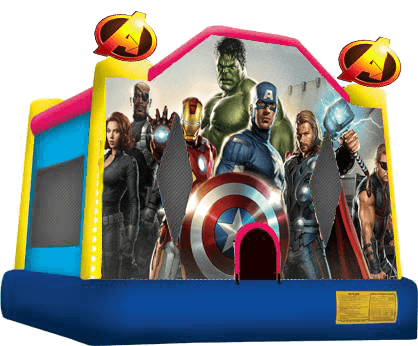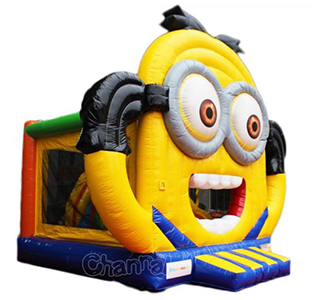 Other helpful resources
https://www.stopfakes.gov/welcome
https://www.export.gov/article?id=Report-Fake-Goods
https://eallegations.cbp.gov/Home/Index2
https://www.cbp.gov/trade/priority-issues/ipr
https://www.usa.gov/online-safety