Inflatables Photo Usage
At Magic Jump, we not only provide high quality inflatables to help make you successful, but we also provide the marketing means to help make you successful. We do this by providing high quality inflatable photos and 3D animations to use for your marketing purposes for any and all Magic Jump Inflatables. Don't worry about taking detailed high quality images with expensive cameras or creating 3D animations using sophisticated software, we have already done the labor work for you. Just follow the simple steps below and you will be able to download and use your high quality inflatable photos and 3D animations.
Step 1
Login to the My Account section at MagicJump.com found at the top right corner of the website.
Note - If you have purchased from Magic Jump and provided an email address than you automatically have an account with access to high resolution photos. If you do not know your login information, click on forgot password in the My Account window or call us at 877-847-1313 for assistance.
Step 2
Once logged in, click on the Product Images icon and text link on the left hand side.
Step 3
Choose the Category of product you desire.
Step 4
Choose the Inflatable product you desire.
Step 5
Includes instructions for Photos and 3D Animations, select your desired format.
To download a product image simply click the image and a save file prompt will be triggered.
Red Arrow - Watermarked Images are for your online marketing purposes. Please use these images which have our company watermark and copyright info on it so overseas manufacturers don't copy our products.
Green Arrow - Non-Watermarked Images are for your printed marketing purposes like print catalogs, flyers, and business cards.
Red Arrows - Choose from the Auto-Start, Speed, and Size options to custom tailor the 3D animation to your website. You can click on the Preview button to see what it will look like and to test it out.
Green Arrows - Paste the code provided into your website.
Note - You might need your webmaster to do this final step. Webpages that already have JQuery enabled will not need the first line of code.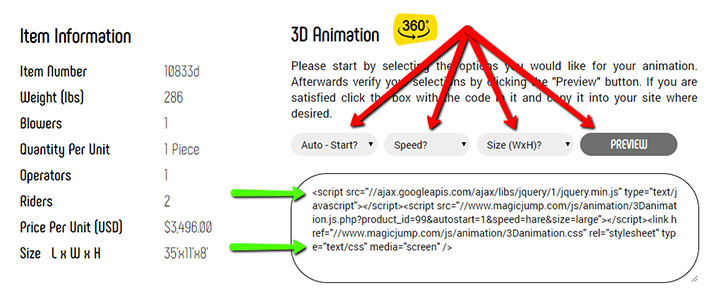 Report

Licensed Knock-Offs

Have you come across counterfeit licensed inflatable knock-offs? Knock-offs are bad for your business and the entire amusement industry. Learn why and how you can report them.
Your

Resources

Take advantage of Magic Jump's wealth of resources and information to keep ahead of the curve in the inflatable industry. Below you'll find several invaluable links to keep your business running smoothly.