Best Cleaning Agents for Inflatables
Disinfecting and maintaining your inflatables quality is very important in preventing the spread of viruses. We want to suggest several products that have been effective towards cleanliness. We highly recommend cleaning and disinfecting products after every use to avoid cross contamination, maintaining the quality of the inflatable as well as the health and safety of the participants.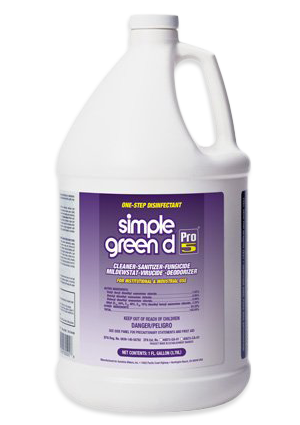 is a good option to help you clean and disinfect your inflatable units. According to their website "Simple Green d Pro 5 has demonstrated effectiveness against viruses similar to SARS-CoV-2 on hard, non-porous surfaces."
is a great alternative to harsh chemicals that might deteriorate the quality and color of the vinyl. According to the Simple Green website, "The trusted formula is non-toxic, non-abrasive and non-corrosive, and is recognized by the U.S. EPA's Safer Choice Program as safer for people and the environment."
is another great option to clean, disinfect and eliminate odor from inflatables. According to the Simple Green wesbite, "Simple Green Clean Finish has demonstrated effectiveness against viruses similar to SARS-CoV-2 on hard, non-porous surfaces. Therefore, Simple Green Clean Finish can be used against SARS-CoV-2 when used in accordance with the directions for use against Poliovirus Type 1 on hard, non-porous surfaces." Simple Green products are a good option if you want to avoid harsher chemicals while still properly cleaning and disinfecting your inflatable unit.
is a hospital grade disinfectant with bleach. Kills viruses like the human coronavirus, hepatitis, common flu and other viral infections. This cleaner is a 1:10 dilution. Bleach is OK to use on vinyl if it has a 7 to 9 PH, 10 PH or above will damage the vinyl so it's important to keep in mind when using products with bleach.

Keep in mind that high concentrations of bleach overtime can damage vinyl.
The above are only suggestions for our customers to use to disinfect and clean their inflatables. The CDC has created a thorough list of several cleaning products and disinfectants that are safe to use for specific viruses. Customers are encouraged to check the list of products at the following CDC Website for more info.
NOTICE:
Magic Jump Inc. does not support or sponsor any one cleaning/disinfectant product or company listed on this page. This information is provided solely for educational purposes and to provide information for Magic Jump Inc. website visitors. If you are a cleaning product company and would like to be included in this list of recommended cleaning/disinfectant solutions for inflatables, please contact us at 818.847.1313 or email us at info@magicjump.com.
Report

Licensed Knock-Offs

Have you come across counterfeit licensed inflatable knock-offs? Knock-offs are bad for your business and the entire amusement industry. Learn why and how you can report them.
Your

Resources

Take advantage of Magic Jump's wealth of resources and information to keep ahead of the curve in the inflatable industry. Below you'll find several invaluable links to keep your business running smoothly.