Magic Jump Inflatables News
Magic Jump, Inc. Bounces Back to IAAPA Attractions Expo in a Big Way! New Branding, Products, Innovations and Partnerships
11/01/17
Los Angeles, CA (November 1, 2017) – Magic Jump, one of the world's leading manufacturers of commercial inflatable attractions, will have a strong presence at the 2017 IAAPA Attraction Expo. Magic Jump will be present with one of the largest booths in the inflatable pavilion section and a ton of "new" news with new branding, new products, new innovations, and new partnerships.
New Branding
Magic Jump hired some of the best creative designers in the business to re-design their branding and their website. After seeing over 200 logo designs from a roster of talented artists from all around the world, Magic Jump has a clean new logo that better communicates what they do, which is "high-quality inflatables" at affordable prices. They also hired a Hollywood production company to develop a TV commercial-type video. Additionally, Magic Jump redesigned their website to make it more visual, easier to navigate, and more intuitive – as well as mobile responsive.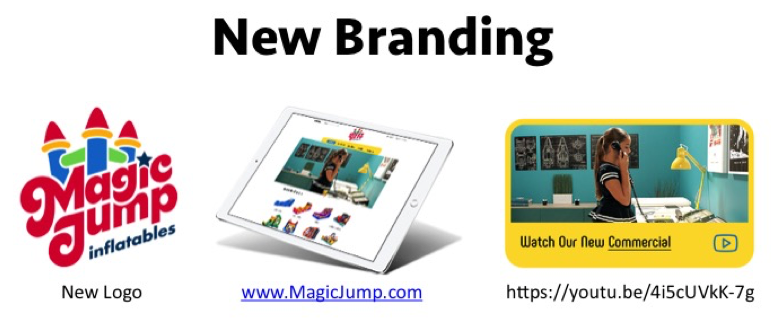 New Products
Magic Jump will showcase the first safe WATER obstacle course, an H2Obstacle Course Wet/Dry, with a patented design. This fun, unique inflatable attraction (in 35 & 45 foot long models) is a combination of two popular categories: an "obstacle course" and a "water slide." Riders go through several obstacles and pop-ups, climb up a tall climber, and slide down, while a water mister sprays them, into a fun U shaped landing. While racing through the different obstacles, riders get to cool down and compete in a fun and safe inflatable attraction because it features Magic Jump's unique non-slip surface.
Magic Jump will also showcase it's very first 6-in-1 Wet or Dry Combo series. This Wet or Dry combo ride features (1) a bigger bouncing area; (2) a basketball hoop; (3) inflated push-through obstacles; (4) a wall climb; (5) a "high platform" wet or dry slide; and (6) a removable pool/landing for wet use. The inspiration for this new combo ride is Magic Jump's highly successful EZ Wet or Dry Combo series, but the new 6-in-1 features a space saving design with more play features. With its unique design, the 6-in-1 is compact and lightweight for easy setup and cleanup, and boasts many safety features that are missing in many competitor's water combos.
New Product Innovation
Magic Jump will introduce their innovative patent pending "hidden stopper" feature for inflatable Wet/Dry slides. Once exposed, this hidden stopper assists riders to come to a safe stop when coming down the slide. When using a combo wet/dry slide, you simply remove the separate pool or landing attachment, open Velcro flaps hidden away under slide lining and allow bumpers (hidden stoppers) to inflate. Then, secure slide lining over bumpers. Now, you are ready to slide with a safer landing.
New FEC Innovation
Magic Jump will introduce their new-to-market "super premium" DuraBounce™ fabric exclusively for Family Entertainment Centers for Magic Jump's line of Indoor Party Center (IPC) inflatables. The DuraBounce™ fabric will add an even higher level of durability to Magic Jump's Indoor Play Center (IPC) inflatables. While the DuraBounce™ fabric comes at a slightly higher price, it will further extend the life expectancy of Magic Jump's Indoor Play Center (IPC) inflatables and it has a life expectancy that is more than double the life expectancy of a standard commercial inflatable in an FEC facility. FEC owners will want to stop by to feel the difference of the "super premium" DuraBounce™ fabric!

New Partnerships
Magic Jump has established a strategic alliance with JB Inflatables that combines the latter's Interactive Play System with Magic Jump's high-quality inflatables for a hi-tech twist on a traditional "bounce house" experience. As part of the partnership, Magic Jump introduces the Interactive Play System (IPS), and IPS Playzone and IPS Playzone X2 (multi level) inflatables. The Interactive Play System (IPS) transforms any bounce house into an amazing, interactive inflatable with 3 different game-modes (Light Hunter, Steal the Light, Back to Base) and 10 pre-programmed themes, ranging from cowboy to princess, which offer great themed tunes and sounds. Be sure to check this out!

###
Contact:
Michael Berreth
VP, Marketing & Business Development
Magic Jump, Inc.
michael@magicjump.com
818.847.1313 x117
Past News Announcements
Report

Licensed Knock-Offs

Have you come across counterfeit licensed inflatable knock-offs? Knock-offs are bad for your business and the entire amusement industry. Learn why and how you can report them.
Your

Resources

Take advantage of Magic Jump's wealth of resources and information to keep ahead of the curve in the inflatable industry. Below you'll find several invaluable links to keep your business running smoothly.