Magic Jump Inflatables News
The Inflatable Room by Architect Alex Schweder
10/10/13
When Architect Alex Schweder was commissioned by Denver's Biennial of the America's to create a inflatable room for them, he turned to none other than Magic Jump Inc. We were proud to help Mr. Schweder create this unique inflatable room that was features for a few weeks during Draft Urbanism show. The inflatable room was suspeneded on top of a vehicle with a lift which gave temporary residents a birds eye view from their room. The inflatable room featured amenities like a bed, toilet, and shower. The following images are of Mr. Schweder himself, photo credit to Amanda Kirkpatrick, as he tests out the inflatable room before it's exhibit at the Draft Urbanism show in Denver.
Alex Schweder's The Hotel Rehearsal combines multiple mechanisms to create a urban mobility, the automobile, an elevator, and an inflatable enclosure to create a unique living space. Merging these elements together, Schweder's mobile room creates a unique living space amongst Denver's urban areas. Ethnically, socially, economically, and culturally, the once clear distinction between city and suburb is rapidly blurring. Apartment towers are built beside single-family homes, and malls have popped up downtown. The Hotel Rehearsal is a prototype for this increasingly mixed context and a new style of living space that can easily move from one location to the other. The Hotel Rehearsal also presents an alternative perspective on the surface parking lot, an underused and disliked fixture of downtown. Hotels have replaced many of the lots, but instead of converting an entire parking lot, Schweder suggests that each space can be individually and temporarily developed. The hotel room becomes a dynamic building block for a small-scale provisional city.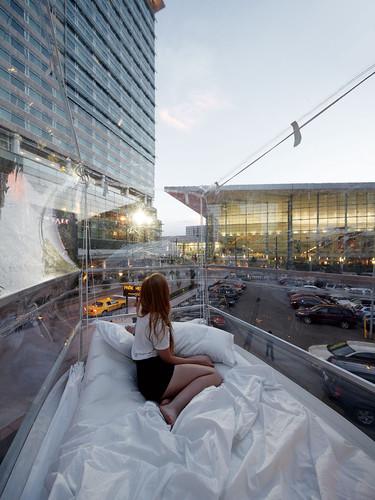 (Inflatable Room, Hotel Rehearsal at Denver Draft Urbanism show)
Past News Announcements
Report

Licensed Knock-Offs

Have you come across counterfeit licensed inflatable knock-offs? Knock-offs are bad for your business and the entire amusement industry. Learn why and how you can report them.
Your

Resources

Take advantage of Magic Jump's wealth of resources and information to keep ahead of the curve in the inflatable industry. Below you'll find several invaluable links to keep your business running smoothly.